Bringing families together one song at a time.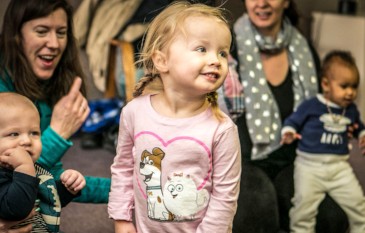 Since 1999, A Child's Song, conveniently located in Thornton, Colorado, has remained committed to providing music education for all. From early childhood to teen—as well as special needs—no child is left behind. 
A Child's Song offers fun Early Childhood classes such as the AussieROO Gym to infants and children up to five-years-old. The Studio brings music education to children ages six through teen. Our Reach and Teach program focuses on children with special needs. We can also bring music outreach programs directly to your school!
Our goal is to provide music education and appreciation not just for children, but for the entire family. Learn more and get involved.
---
Calendar
| Date | Event | Time |
| --- | --- | --- |
| 2/25 | Student Recital | 1:00 and 2:30 PM |
| 2/28 | Art Class Open House | 5:00-6:30 PM |
| 3/1 | Kindermusik Open House | 9:00-9:45 AM |
| 3/2 | Dance Open House | 4:00-6:00 PM |
| 3/12 | Music & Art Fair | 2:00-4:00 PM |
RSVP through our Event Calendar.

For more information on any of the above events, please call (303) 460-7408 or email info@achildssong.com
Posted on 02/20/2017

When employers are looking for someone unique, make your resume jump out by adding volunteer experience. How can volunteering boost your job search? We're going to find out.

Posted on 02/13/2017

Whether you're single, dating or married, you can give the most romantic Valentine's Day gift by giving back to your community. Check out 14 altruistic ways to celebrate this special day.

Posted on 02/06/2017

Give yourself and your loved ones the greatest gift this American Heart Month by focusing on making heart-healthy decisions towards a happier and healthier lifestyle.